WHERE TO START?
If you're not sure which FRS course to begin with,
follow the paths below to help you decide
MANUAL THERAPIST*
(Chirorpractor, DPT, RMT, etc)
As a Manual Therapist who can introduce palpation and corrective programming, you can choose from our three seminars divided by region as your entry course into the FRS system. All FR® courses are supported by a dynamic, online resource library that includes seminar specific palpation instructionals for reference. Choose the FR® course that makes the most sense for your practice and understand that many practitioners take all three to become full-body certified.
FR® SPINE • FR® LOWER LIMB • FR® UPPER LIMB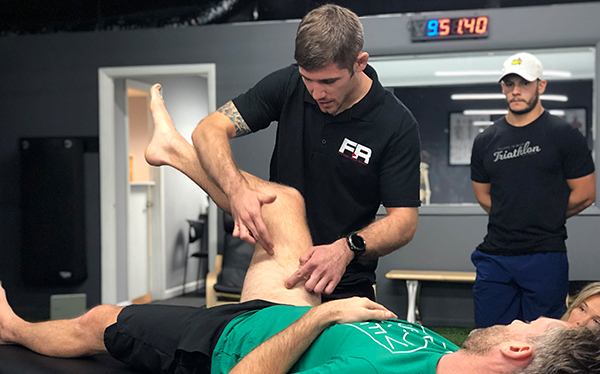 FITNESS SPECIALIST
(S&C, Yogi, Movement Practice)
As a fitness-industry professional, you work one-on-one with clients and/or are running group fitness classes. Understanding the need for joint-health, active and passive ranges of motion and that you can only move, where you can move, you are interested in improving the articular strength and capacity of your clients to mitigate injury and to improve performance
FRC®
EVENT LIST
| Event | Venue | Date | |
| --- | --- | --- | --- |
| FRC® Certification Seminar (Seoul, Korea) - LIVE SEMINAR | Hi Seoul Youth Hostel | Sep 23, 2023 | SOLD OUT |
| FRA® Certification Seminar - (Worldwide) ONLINE SEMINAR | ONLINE SEMINAR | Sep 23, 2023 | Register |
| FRC® Certification Seminar (Gulf Breeze, FL) - LIVE SEMINAR | EXOS Florida | Sep 30, 2023 | Register |
| FRC® Certification Seminar (Atherton, CA) - LIVE SEMINAR | Menlo College | Sep 30, 2023 | Register |
| FR® Upper Limb Certification (Worldwide) - ONLINE SEMINAR | ONLINE SEMINAR | Oct 7, 2023 | Register |
| Non-Therapist FR® Upper Limb Certification (Worldwide) - ONLINE SEMINAR | ONLINE SEMINAR | Oct 7, 2023 | Register |
| FRC® Certification Seminar (Paris, France) - Séminaire en direct | L'Arène CrossFit Nakama | Oct 14, 2023 | Register |
| FRC® Certification Seminar (Worldwide) - ONLINE SEMINAR | ONLINE SEMINAR | Oct 14, 2023 | Register |
| FRC® Certification Seminar (Toronto, ON) - LIVE SEMINAR | APEX Training Centre | Oct 28, 2023 | Register |
| Kinstretch® Level 1 Certification Seminar (Worldwide) - Online Seminar | ONLINE SEMINAR | Oct 28, 2023 | Register |
| Private Pro FRC® + FRA® Hybrid Certification (Mesa, AZ) | Oakland A's Spring Training | Nov 3, 2023 | Register |
| FRC® Certification Seminar (New York, NY) - LIVE SEMINAR | Mocean | Nov 4, 2023 | Register |
| FRC® Certification Seminar (London, UK) - LIVE SEMINAR | Movement Labs East | Nov 4, 2023 | Register |
| SEMINARIO EN LÍNEA FRC (North/South America/Europe) - ONLINE SEMINAR | ONLINE SEMINAR | Nov 18, 2023 | Register |
| FRC® Certification Seminar (Singapore) - LIVE SEMINAR | Singapore Submission Grappling | Nov 18, 2023 | Register |
| FRS Internal Strength Model® Certification Seminar (Worldwide) - ONLINE SEMINAR | ONLINE SEMINAR | Dec 2, 2023 | Register |
| Private FRA®/FRC® Certification Seminar USMC (Camp Pendleton, CA) - Live Seminar | USMC | Dec 5, 2023 | Register |
| FR® Spine Certification (Worldwide) - ONLINE SEMINAR | ONLINE SEMINAR | Dec 9, 2023 | Register |
| Non-Therapist FR® Spine Certification (Worldwide) - ONLINE SEMINAR | ONLINE SEMINAR | Dec 9, 2023 | Register |
| FRC® Certification Seminar Ohio State (Columbus, OH) - LIVE SEMINAR | Ohio State University | Dec 9, 2023 | Register |
| FRC® Certification Seminar (Seoul, Korea) - LIVE SEMINAR | Hi Seoul Youth Hostel | Jan 13, 2024 | Register |
| FRC® Certification Seminar (Osaka, Japan) ライブセミナー | Hannan University | Mar 9, 2024 | Register |

Dr Spina will knock you out of your comfort zone… it's time to meet this Master.
Riesal Mikael Id

 Dr. Spina and his team are hands down some of the best in the field. True professionals teaching from their hearts. Can't wait to take all the courses!
Matthew Meyer

 Utterly Mind blowing- the best workshop I've attended all year, by far.
Mike Spiegel
UTILIZED BY TOP PROFESSIONALS AROUND THE WORLD